Walsh insists on improvement of T20 rankings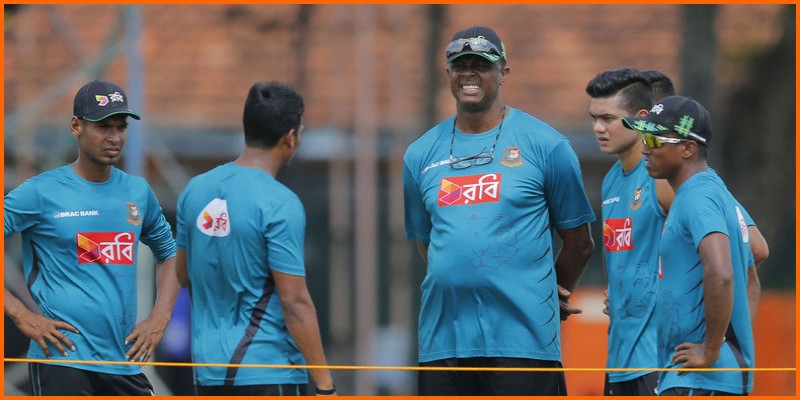 Sat, May 26, 2018 8:31 PM
Photo: Online
After taking some break, Courtney Walsh has arrived in Dhaka in couple of days earlier. He started to conduct the training session of national team from Thursday.
In the absence of Bangladesh head coach, Courtney Walsh will lead again the Tigers in the upcoming T20 series against Afghanistan in Dehradun, India.
Yesterday at Mirpur during the training session of Bangladesh national team this former West Indian great talked with the reporters. During his interaction with the reporters, Courtney Walsh said he is hopeful to perform better in the series.
"I am very excited to be involved again. We need to play a good style of cricket like we did in Sri Lanka. We should improve in certain areas. Hopefully, we will have a successful series. I think once we don't get complacent and remain focused on what we have to do, we will be able to perform to the best of our ability," he said to the reporters.
Though Walsh is concerned about the bowling department of Bangladesh team. He believes fast bowlers have to be more consistent in order to get positive results of Bangladesh team. He said "I'd like to see the bowling department get a little bit more consistent, especially the fast bowlers. They have not been consistent over the last couple of tours. I'd like to see the quartet stand out together,"
Finally, Walsh also insisted that to improve the rankings Bangladesh have to focus on to win the series and play good cricket. "We have to focus on that because the World T20 is not too far away. We need to get up in the rankings as well. We can't be complacent, and we have to go out and play good cricket. It is very important to come out with a victory in this series, to help us with the rankings and also give us confidence going into the West Indies tour," Walsh concluded.